---
Trikes
---
Trikes can carry more cargo, like these Greenspeeds.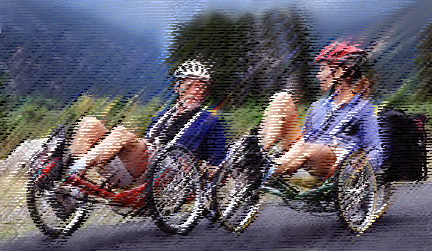 ---
Anura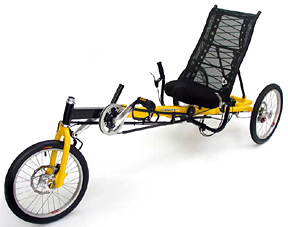 Anura Trike from Greenspeed
Imported from Australia

Click here for price:

Specifically designed as a high quality, user friendly, recreational trike for older and handicapped riders, who are unable to get up and down from low trikes, and for people who would like to ride higher in traffic. This trike can be parked vertically, requiring very little floor space.
---
Glyde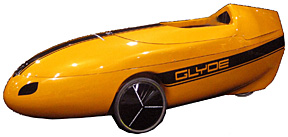 Glyde Trike Velomobile from Greenspeed

Click here for price:

Designed to be the best human-powered vehicle possible. That could only be achieved by designers having all the experience gained from nearly 18 years of building high quality trikes. We may one of the first shops in North America to carry the Glyde.
---
Kettwiesel

Kettwiesel Recumbent Hand-bike from Hase
Imported from Germany

Click here for price:


Kettwiesel Recumbent standard pedal trike from Hase


Click here for price:
Ideal for wheelchair riders who enjoy speed and being on the move. The Kettwiesel has secure traction even on slippery ground, due to back wheel propulsion. Also, it has very reliable braking, with little effort, due to the powerful hydraulic disk brakes.
---
Lepus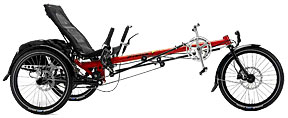 Lepus Trike from Hase
Imported from Germany

Click here for price:

A high-end, delta-style workhorse with rear suspension and astonishingly efficient German engineering.
---
Scorpion / Scorpion fx / Scorpion fs

Scorpion fx
Trike from HP Velotechnik
Imported from Germany


Scorpion fx in storage position

Click here for price:
The foldable Scorpion fx recumbent offers plush suspension and adjustable BodyLink seat to assure relaxing comfort. It can be rolled through a standard doorway. With the seat removed and rear wheel folded to the front, it can be folded to: 103x83x69 cm tilted to the front, or 77x83x97 cm tilted to the rear.
---
Test Ride
We encourage you to make an appointment for a test ride: 206-723-4891
---
Prices
---