---
Recumbent Bikes
---
The GrassHopper fx recumbent folds in 1 minute.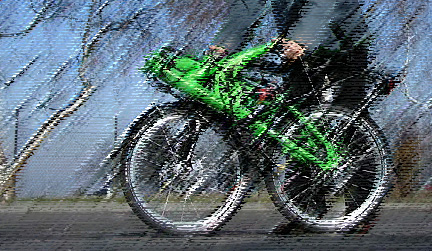 ---
Enduro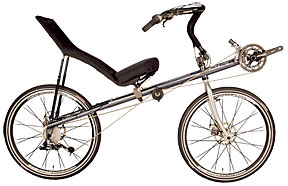 Enduro Recumbent from RANS
Made in the USA

Click here for price:

This is the nicest of the unsuspended high-racers, specifically designed for all-around use, including off-road.
---
GrassHopper fx

GrassHopper fx Recumbent from HP Velotechnik
Imported from Germany




GrassHopper fx in storage position


Click here for price:
The foldable GrassHopper fx recumbent provides a good ride and folds in 60 seconds to fit in a trunk. Folded dimensions: 96x50x70cm / 38x20x28 inches.
---
Recumbent from Flevobike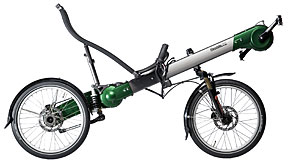 Recumbent from Flevobike
Imported from Holland

Click here for price:

Features a fully enclosed drive train. The closed "Box" construction keeps all water, mud, debris and brine out and fully protects the chain drive train. This offers a big advantage to commuters who ride through all types of weather: no maintenance required for the chain, speed hub or any drive train components. The back support has mesh for ventilation, and the Rohloff 14-speed hub can be shifted while pedaling as well as when still. Simple, user-friendly disassembly allows for compact storage. We are the only authorized U.S. dealer for Flevobike.

Flevobike Recumbent Specifications:
Total Length: Small ± 174 cm - Medium ± 180 cm - Large ± 186 cm
Width: Handle bar ± 40 cm (ASS) - Handle bar ± 62 cm (USS) - Seat ± 33 cm
Height: ± 120 cm
Wheelbase: Small 109 cm - Medium 112 cm - Large 113,9 cm
Weight: starting from 16,2 kg - fully equipt 18 kg
Frame(parts): Aluminium
Anodized frame colors: red, purple, blue, orange, green
Seat: Height ± 52-57 cm - Angle adjustable from 35°-50°
Back Support: Lenomesh fabric (ventilated), aluminium frame
Seat: aluminium with foam padding
Handle bar: upper position (adjustable and foldable) or under seat steering
Head set: 1 1/8'' with needle bearings
Crank length 150 mm or 170 mm - Rohloff speedhub, 14-speed with gripshifter - Shimano 18t freewheel - KMC 8-92 chain
Pedals: traditional antislip
Brakes: Mechanical disc brakes front/rear, 160 mm. disc
Suspension Front: rigid (standard), suspension (optional)
Suspension Rear: singled sided, hydraulic rear shock with coil spring
Wheel size: 20" ETRTO 35 - 406 - regular 36 spokes
Tire: Vredestein Perfect Moiree 47 x 406
Standard equipment: bell, fenders, kick stand, connection for trailer, head light bracket
Accessories: bottle holder, SPD pedals, cycling computer, telescopic front suspension, hubdynamo, seat pannier, lighting, lock
---
i-Go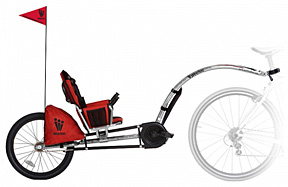 i-Go Child's Recumbent Pedal Trailer Bike from WeeHoo
Imported.

Click here for price:

The youthful occupant, sitting in a recumbent position, can pedal, assisting the driver, or just sit. It has a 3-point safety harness, fully enclosed drive train (chain and chain rings), foot straps for the pedals, rear wheel coverage, and padded seat.
Rider and cargo weight limit: 75 lbs / 34 Kg
Recommended rider height: 38 in. to 52 in.
---
P-38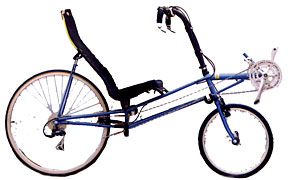 P-38 Recumbent from Lightning
Made in the USA

Click here for price:

Built for speed, yet amazingly comfortable, this rocket is one of the fastest bicycles around. Front and rear suspensions optional.
---
StreetMachine GTE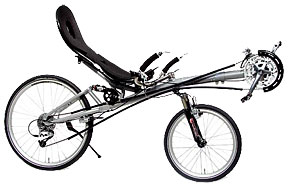 Gte Recumbent from HP Velotechnik
Imported from Germany

Click here for price:

With full suspension, this model is the world's most popular touring recumbent bicycle.
---
TourEasy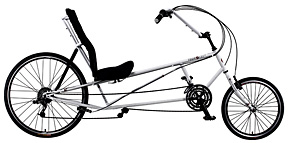 TourEasy from EasyRacer
Made in Taiwan

Click here for price:

This is perhaps the best long wheelbase recumbent made, known for being very fast and very comfortable.
---
V-2 Formula (Aluminum) / V-3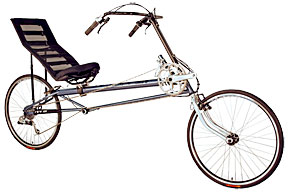 Cruiser V-3 Recumbent from RANS
Made in the USA

Click here for price:

Comfort and speed denote this long wheelbase bike.
---
Test Ride
We encourage you to make an appointment for a test ride: 206-723-4891
---
Prices
---