---
Tandems
---
One person steers, and one or both can pedal this Buddy Bike.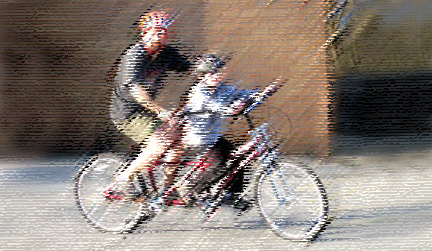 ---
Buddy Bike Sport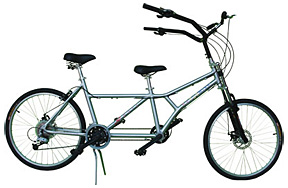 Buddy Bike Tandem from Buddy Bike
Made in the U.S.A.

Click here for price:

The Buddy Bike is an inline tandem bicycle (bicycle for two) that places the stoker (smaller rider) in the front seat, while the rear rider controls the steering. It is shorter in length than a typical tandem, and has a lower front seat so both riders can safely enjoy the view.

The Buddy Bike supports up to 380 pounds; making it the ultimate family bike that can be enjoyed by riders of all ages and abilities. Its features make it especially beneficial for special needs children. The Buddy Bike allows kids with autism, down syndrome, sight impairment or other disabilities to experience the thrill of riding a bicycle.
---
GTT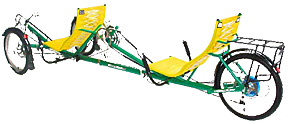 GTT Tandem Recumbent from Greenspeed
Made in the U.S.A.

Click here for price:

The GTT is in a class by itself, as the most proven tandem trike on the market. Knocks down for travel.
---
Pino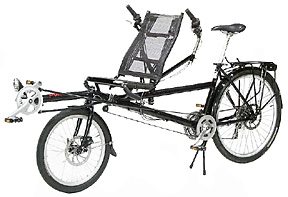 Pino Tandem/Recumbent from Hase Bikes
Imported from Germany

Click here for price:

With this single, clever tandem construction, the rear partner enjoys free visibility to the front, and is in charge of the control elements at the handle bar. The front partner can decide whether or not to pedal, thanks to the freewheel mechanism. Also, the Pino is available in a hand-drive configuration for the front rider. A seat belt is available for the front position disability adult or child stoker. It has an optional front suspension fork and seat post suspension for the captain position.
---
Screamer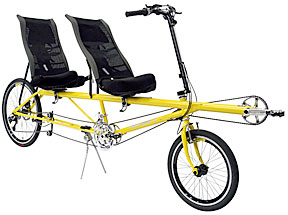 Screamer Tandem/Recumbent from RANS
Made in the U.S.A.

Click here for price:

These popular bikes are available by special order.
---
Troika


Viewpoint Tandem/Recumbent from Organic Engines
Made in the USA

Click here for price:

Sturdy, yet beautiful, in its design, the Troika offers an excellent deal in a great tandem trike. Seats have a very wide adjustment range, so most riders should be able to ride comfortably. These bikes are custom hand-made in Florida.

Troika Specifications:
Main Frame Material 4130 Cro-Mo Steel Alloy
Seat Frames: 6061 Aluminum
Finish: Powder Coat- Red, Orange, Green, Blue and Black
Weight: 58 lbs
Sizing Captain: Xseam: 35" to 50" - Stoker Xseam : 30" to 44"
Length: Wheelbase/Overall 85"/120" (Varies with captain height)
Width: Track/Overall 32"/36"
Seat Bottom Height: 12" (varies with angle adjustment)
Steering: Modified Akerman Center point, kingpins and stem use 1" threaded headsets,
columbus steerer tubes, 6061 connecting rods and high quality 4 piece rod ends (heim joints)
---
Viewpoint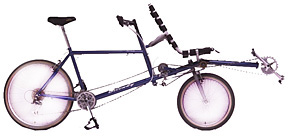 Viewpoint Tandem/Recumbent from Bilenky
Made in the USA

Click here for price:

A classic tandem design with excellent aerodynamics. The semi-recumbent design allows captain and stoker to communicate at normal levels of conversation. These bikes are custom hand-made in Pennsylvania.
---
Test Ride
We encourage you to make an appointment for a test ride: 206-723-4891
---
Prices
---